Daisy's parents, Suzy Miller-Fuentes and Robert Fuentes...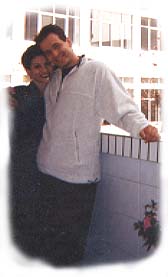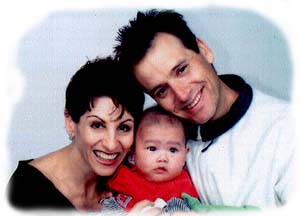 Photos: left, Suzy and Robert await Daisy.
Above, family! The official adoption photo.

Daisy's parents Suzy and Robert have been married since 1993 and live in a warm beautiful ranch house with seven cats (Babe, Dude, Cheetah, Sam, Precious, Ferocious and Beast) in California. With their new daughter Daisy, their home and happiness is complete. Suzy is a choreographer and dancer; Robert is a multi-talented carpenter (he renovated their home with brother Ralph) and retired massage therapist.
Mom Suzy wrote about Daisy and her new father:
"Robert and Daisy are beyond bonded, they are madly in love. He generously shares her with me, but we have got a big time Daddy's girl on our hands! And Robert is clearly SuperDad. Who knew?! He is as surprised as anyone. But he is one big smitten kitten. They gurgle and coo at each other endlessly. He is the diaper changer, bottle warmer, medicine giver, tucker-inner, outfit changer. My job is to make her giggle and dance. She has total rhythm and fabulously strong legs, and though she is quite the fatty, (the hotel staff calls her "Xiao Chu Chu" - "little piglet"!) she will obviously follow in her mother's turned out footsteps. (Or not. Maybe she'll be a famous leg wrestler instead.)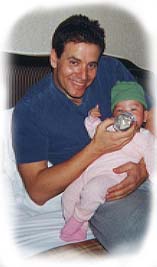 "Daisy has now learned how to shriek with glee, which Robert encourages her to do much to the dismay of our fellow diners. He says she is just expressing herself and shrieks back. Oy. I made him promise we will not take her to the movies till she's over the shrieking stage.

"But most of the time she is happy as a laughing Buddha. She's a daredevil, loves to be zoomed around in her stroller, especially loves flying on her tummy in our arms, and has the happiest feet I've ever seen - she claps them constantly."
Proud dad Robert:
"I love my daughter and I have completely surprised myself with my reaction. I am completely capable of taking care of , loving, teaching, and kissing her little face all over. I am a changed man, and can't think of a bigger joy in my life than enjoying these moments with my new family....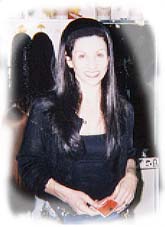 "As we walked home through the busy streets of Kunming, we were approached by many people. At one point we were surrounded by a crowd, many elderly, who of course in China are revered for their wisdom. They hung around us and asked questions, and Suz with her limited Chinese was able to express that she is adopted and we will always love her. The reaction we got was one that will stick in our memories for a long time, for we got recognized for the loving thing we are doing by the Chinese themselves. They made gestures toward their hearts, put their hands together and bowed slightly, followed by a thumbs up."
Photos: above, happy father and daughter. Left, pretty mother posing in China for Daisy and Robert.